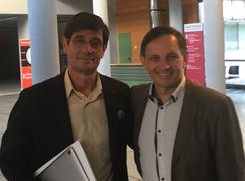 Evert, Charity Director was invited as a specialist academic lecturer to The Faculty of Medicine School of Health Sciences University of Thessaly. He gave three lectures on advances in hip reconstruction to students, residents, consultants and academic staff, imparting his knowledge on hip exposures, the state of play on metal on metal technology and his views on whether the surgeon should use cemented or uncemented total hip arthroplasty.

His second day at the Faculty of Medicine was spent in the operating theatre with Professor Theofilos Karachalios where they were both able to exchange tips on techniques.
During his visit, he reacquainted with Antonios Koutalos. Antonios was Evert's former Fellow and has undertaken some excellent research on behalf of the charity on the mid term results of the ReCap Magnum metal on metal bearing surface.
Altogether an excellent couple of days.