September saw Evert Smith, charity Director take hip research to the stage in India. He was privileged to be invited as a distinguished guest speaker at the Combined Meeting of the 6th International Geriatric Orthopaedic Society, Fragility Fracture Network (India) and Current Concepts in Arthroplasty from the 6th to the 9th September 2018 at the Jawaharlal Auditorium, AIIMS, Delhi.
A spectacular conference programme was put together by Professor Raj Malhotra, head of the Orthopaedic Department at AIIMS and the event was attended by hundreds of doctors from all medical disciplines. During the conference, Evert met Professor John Ebenezar, GOSICON President and Dr Armanath, GOSICON Secretary. The Minister of Home Affairs gave a speech endorsing GOSICON ideals and promising governmental support for research and development in joint replacements to tackle the needs of an ever-increasing elderly demographic. Evert gave three presentations - one on the Exceed Acetabular Bearing System, the second on Approaches to the Hip and a talk on New Trends in Acetabular Revision.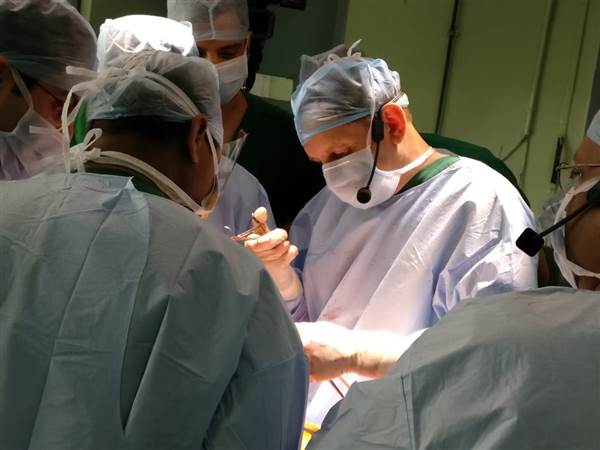 He performed live surgery at AIIMS while being observed by more than 500 medical professionals, with a team of surgeons including Dr Srikanth and Dr Vikrant, Assistant Professor, Arthroplasty Unit, Department of Orthopaedics. The 35-year old female patient with developmental dysplasia of the hip consented to receiving a minimal approach total hip replacement performed by Evert. The operation was considered to be a great success.
A second meeting took Evert to the Karnataka Orthopaedic Association (KOA) meeting in Bengaluru. Here Evert presented on Approaches to the Hip Joint, for the second time. He also had a session with delegates where he fielded questions regarding his career journey in orthopaedics, which included his scientific research, the design of hip devices and his work with the charity.



Evert was surprised by an Award as Master of Surgery at the finalé of the conference. The award was bestowed on him by Professor Purushotam, President of the KOA alongside Professor JK Reddy.
The trip to India was hectic and memorable and a massive learning experience where he gained orthopaedic knowledge and established some long-term friendships in the colourful and vibrant country of India.