Diana Pomeroy, Charity Trustee, is to be honoured by the City of Bristol as one of Bristol's unsung heroes for serving the people of Bristol through her work with Arthroplasty for Arthritis Charity. She is to receive The Lord Mayor of Bristol's Medal in a ceremony at the Mansion House on 22nd March 2018.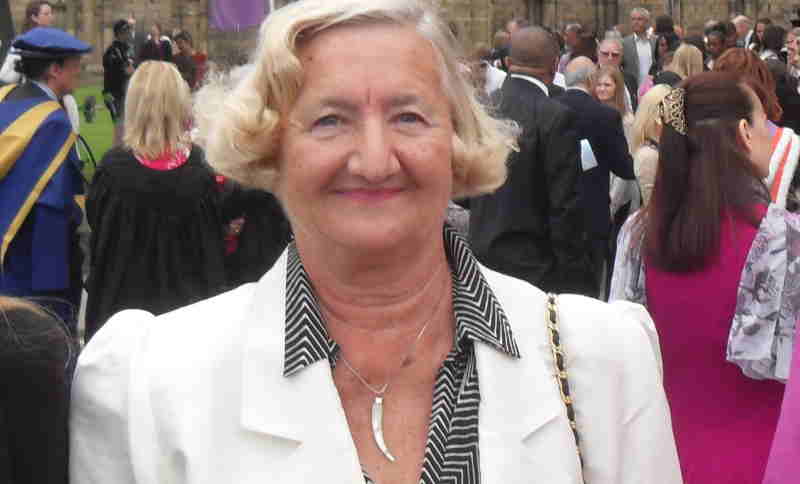 Evert Smith, founder and Director of Arthroplasty for Arthritis Charity, and Consultant Orthopaedic Surgeon first met Diana when she consulted him about her crippling arthritis. She was hardly able to walk and totally relied on crutches. Evert took her under his wing and very soon replaced both her hips. Within weeks, Diana was mobile again and was amazed at how transformative her surgery had been.
When Diana discovered that Evert was the founder of a small charity dedicated to funding research and education into musculoskeletal conditions, she didn't miss a beat. Charity work was an area in which she had considerable expertise, having been a former head of marketing and fundraising at the National Council for Voluntary Organisations. She wasted no time in offering to assist the charity and to support its aspiration to improve the quality and longevity of joint replacements, the ultimate goal being to effect developments that could influence the possibility of finding a 'hip for life'.
Arthroplasty for Arthritis Charity came from small beginnings, having been instigated by Evert in 1994 through donations to support his work, often from grateful patients like Diana. Diana first went about relaunching the charity at a function in May 2013, which was followed by a fabulous fund raising event at Claridge's London in July 2014. Diana has remained with her finger firmly on the pulse from the start and her most recent triumph was a grand banquet of food in celebration of the 800th anniversary of the role of the Lord Mayor of Bristol. Some of the city's most highly respected dignitaries were present, including Her Majesty's Lord Lieutenant of the County and City of Bristol, the High Sheriff of the City and County of Bristol and the Lord Mayor herself. This event was shared with the Royal Academy of Culinary Arts Adopt a School Charity and was the brainchild of Diana, who had organised a similar charitable event in London many years ago.
Under the guidance of Diana, Arthroplasty for Arthritis Charity has gone from strength to strength and all who know and work with her are amazed at her achievements. Diana even continued to manage the charity throughout a very serious illness some years ago. She works tirelessly in her efforts for the charity and we are all very proud that her work and dedication has been recognised through this marvellous award.
Diana has, and will continue, to make a difference to people's lives through her determination and enthusiasm to help others. We owe Diana a huge debt of gratidude for her unyielding commitment.
Well done Diana!