One of the most successful fund raising functions Arthroplasty for Arthritis charity has ever undertaken was held on the 3rd November 2017. We hosted a grand Banquet of Food through the Ages in celebration of the 800th anniversary of the role of the Lord Mayor of Bristol in conjunction with The Royal Academy of Culinary Arts Adopt a School Charity. The magnificent Sansovino Hall at The Bristol Harbour Hotel was the venue. This grand room was formerly the banking hall of Lloyds Bank. It has a magnificent skylight with an opulent ceiling and easily accommodated more than 300 guests of the two charities.
We were honoured by the presence of Her Majesty's Lord Lieutenant of the County and City of Bristol, Peaches Golding OBE; the High Sheriff of the City and County of Bristol, Anthony Brown; and the Lord Mayor of Bristol, Councillor Lesley Alexander, who were heralded into the banquet by the Bristol City State Trumpeters, Joe Hamlen and Corinna Underhill, under the escort of the City Mace Bearers led by Shaun Finn, and Peter Watts the City and County of Bristol Swordbearer. This grand opening set the evening off to a fine start.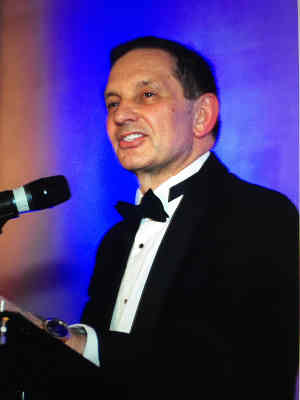 Evert Smith (featured here) Director of Arthroplasty for Arthritis Charity and Sara Jayne Staines OBE of the Royal Academy of Culinary Arts gave an overview of the work of their respective charities. Raymond Blanc OBE and Brian Turner CBE gave a tribute speech to Mr Roy Ackerman CBE who died before seeing this event come to fruition. A great man who will be missed.These two star chefs then explained how we would be taken on a journey from the 13th to the 20th Century with carefully designed dishes crafted to represent each of the eight centuries. Many, many hours went into designing the courses, by some of the finest Chefs in the United Kingdom: Raymond Blanc OBE, Brian Turner CBE, Peter Vaughan, Gary Jones, Howell Jones, Alex Aitken, Josh Eggleton, Claire Clark MBE, and Mark and Sue Stinchcombe.The wines to accompany the different courses were provided by Averys of Bristol.
Service staff from the City of Bristol College and Weston College, donated their time to gain some experience of an event at this level and what a brilliant job they did. We are so grateful to have had the help of such a marvellous group of students.
Bristol Old Vic Theatre School entertained us in between courses with some historically appropriate sketches depicting Isambard Kingdom Brunel, John Wesley and John Cabot played by John Telfer, Micky Dartford and George Readshaw respectively.
It is hard to acknowledge the kind support we received from so many individuals and organisations, but we could not have achieved such a successful evening without them. Some we would particularly like to mention are the Bristol Post who produced the Programme of nearly fifty pages, provided some appreciated publicity and took some fabulous photographs on the evening. Proctor and Stevenson's gave us invaluable assistance, and we are so grateful for their continued support. All the staff at the Bristol Harbour Hotel were so kind and helpful; Jongor helped with catering supplies and Hannah of Leverton Events and Communications was so kind with her time in helping us organise this evening.
So many kind sponsors donated some amazing prizes for our auction and raffle and we were privileged to have Andrew Morgan MBE act as auctioneer. Andrew masterfully conducted the auction, entertaining and captivating the audience as he made each prize a must have item.
Wayne Sleep, Patron of Arthroplasty for Arthritis Charity, drew the raffle. He so deftly made a small but pertinent speech about the relevance of our research to just about everyone present at the banquet.
We thank everyone who donated prizes or so kindly gave of his or her time to help make this event such a memorable occasion, and we thank everyone who supported us by attending the banquet and contributing to raising funds for our much needed research.
An evening not to be forgotten, for so many reasons.