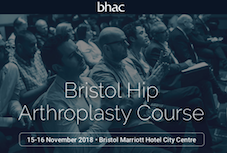 Charity Director, Evert Smith has coordinated The Bristol Hip Arthroplasty Course (BHAC) since 2003. This hip course was initiated by John Newman in the 1980's but at the time it was known as 'Debates about hip replacement'. Evert was a co-coordinator of the meeting and he assumed responsibility for it when Mr Newman retired.
In 2003, Evert renamed the meeting as the BHAC and over the years it has become recognised as one of the most valuable hip courses for UK surgeons to attend. The BHAC is a platform where new developments, updates in knowledge and innovation are carried forward, which are in every sense aligned to the values and aspirations of Arthroplasty for Arthritis Charity. Evert's international prowess means that he is able to attract faculty members from across the world to speak on some of the most relevant topics in the field of hip replacement surgery.
This year ticked all the boxes and was considered to be one of the most instructive BHAC events with a superb faculty and a highly inquisitive delegate contingent.
The date of the next BHAC will be released shortly.