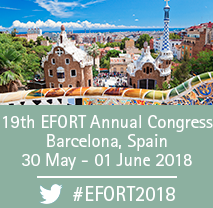 The origin of the European Federation of National Associations of Orthopaedics and Traumatology (EFORT) grew out of a desire to create a link for all national orthopaedic associations in Europe. In 1992 the Federation came into formal existence and the first meeting was held in 1993. It was no mistake that this coincided with the creation of the European single market. EFORT is now the largest platform for European orthopaedics and traumatology and is known for conferring several prestigious awards to the best and most innovative abstracts submitted for peer review.
As part of Charity Director, Evert Smith's work as European Hip Society (EHS) Scientific Committee member, Evert is often requested to work with the EFORT team both on programme planning, as well as a faculty member.
This year saw Barcelona act as host for the 19th EFORT Congress with a theme based on innovation and new technologies. It boasted a substantial international faculty, as well as a very large delegate population. The event was spread over three intensive days, encompassing many aspects of orthopaedics and traumatology, enabling the attendees to follow an informative programme to suit their own medical discipline.
As well as undertaking his European Hip Society (EHS) commitments at this congress, which included an EHS National Representative meeting and a Scientific Committee planning meeting for the 13th EHS Congress scheduled to take place in The Hague in September, Evert presented on when to revise metal on metal bearings, as well as moderating a session entitled Metal, Primary and Trunnion. Evert was also one of several members representing the Orthopaedic Data Evaluation Panel International Collaboration Group where he works closely with other orthopaedic colleagues at national level to ensure that joint replacement implants are risk assessed and monitored.
The 2019 EFORT congress will be in Lisbon - let the preparation begin!