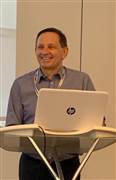 Evert took to the podium in Amsterdam at Stryker's EEMEA Cementless Hip Symposium. The purpose of the meeting was to update and debate some headline hip replacement issues. The course included tutorials and clinical challenge groups, discussing design implications of stems and cups, robotics in total hip replacement (THR), surgical approaches, 3-D technology and Stryker's Trident technology.
In the current environment, minimally invasive and robotic assisted surgery are key issues for surgeons in all surgical specialties. Patients want less invasive surgery and shorter recovery times and surgeons seek improved outcomes for patients, while addressing their safety.
Evert made personal presentations on cemented versus cementless THR; temporal change in use of cementless femoral stems; short stems; considerations for use of the Direct Superior Approach (DSA), Direct Anterior Approach (DAA) and the SPAIRE approach (Spare Piriformis and Internus Repair Externes). Evert is accredited in robotic THR using the MAKO system and a proponent of the DSA in THR as he experiences enhanced outcomes using this technique.
The star studded international faculty delivered a constructive and worthwhile conference and Evert returned home to continue following the Cricket World Cup and the FIFA Women World Cup.